With summer just around the corner, we've rounded up our top 5 picks of best SUV's in no particular order for all of you campers, explorers and adventurists out there! If you're planning a road trip this summer, make sure you're in a vehicle that's best suited for you and the family with enough room for all to travel comfortably.


1. 2018 Subaru Outback
If you're wanting a vehicle to take you off-road for better exploring of the Canadian Rockies, look no further! The Subaru Outback sits right on the dividing line of a crossover, an SUV and a wagon all in one and comes standard with AWD. The ultra-strong platform, low center of gravity and refined suspension system create car-like handling, providing a highway driving experience like no other so you can enjoy driving both off-road and on the road equally as much.
All Subaru Outbacks come with eight airbags, stability control, a rearview camera and anti-lock brakes. Upgrade to the Outback Touring and you'll be equipped with Subaru's new EyeSight active-safety system (a multi-camera system to incorporate adaptive cruise control, automatic emergency braking, automatic high-beam headlights, blind-spot monitors and lane-departure warning). It's no wonder the Outback was awarded Top Safety Pick+ award, the highest award by IIHS for scoring so well in it's crash-tests.
What's more?
The 36 cubic feet of extended cargo space in the back means you can opt out of a tent and set up camp right in the comfort of your own vehicle.
If a safe and reliable vehicle is what you're looking for to hit the highway this summer then this is the ride for you!
2. 2017 Jeep Grand Cherokee


Arguably one of the most stunning SUV's to ever hit production, the Jeep Grand Cherokee was built to explore and continues to wear the crown as the most awarded SUV to ever hit the market (and we can certainly see why!). Whether you're wanting to do some off-roading, tow a trailer, or simply want a reliable SUV for your daily commute, it's capabilities are pretty much endless.
The luxurious cabin was richly designed & furnished, even on the basic Laredo model, offering both the driver and passengers top-notch comfort for an enjoyable driving experience. Although the Grand Cherokee is a five-passenger, two-row model, don't be fooled; the interior space is fairly large.
No matter which line of the model you choose, all Grand Cherokees come well equipped with power features, cruise control, A/C, cloth upholstery and a rearview backup camera & parking sensors. Upgrade to their Summit trim level and experience true luxury with every feature imaginable, including (though, not limited to): a touch screen, NAVI, Bluetooth, an 825-watt Harman Kardon surround-sound audio system with 19 speakers and 3 subwoofers, nappa leather seats, open-pore wood trim, ventilated seats and a panoramic roof to bring in that natural sunlight or to gaze up at the stars at night.
If you ask us, it doesn't get much better than this.
3. 2018 Toyota 4Runner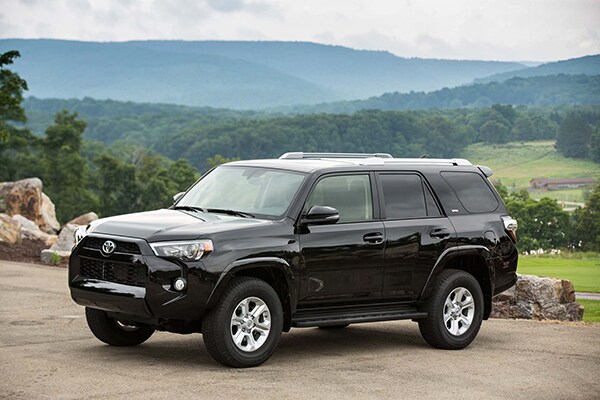 If interior isn't your number one priority but off-road performance is, this is the vehicle for you. The Toyota 4Runner is a perfect match for the weekend warriors looking to leave the pavement for some off-roading fun! With a standard V-6 engine and maximum towing capacity of 5,000 pounds, they won't tow a yacht but these bad boys will haul your travel trailer or small boat without a problem. The 4Runner comes standard with 5 seats but you can increase this to 7 with optional third row seating...that's enough room for not only the family but the pets, too!
Don't mistake this SUV for a family vehicle though...The Toyota 4Runner was made for some seriously rugged off-roading! Just make sure to level up to one of their TRD trims for the Kinetic Dynamic System, off-road tires, a locking rear differential and for optimal traction control. And if that's not enough, you can check out their all new
Wilderness Package, which includes: roof-rack crossbars, all-weather floor liners and a cargo tray.
Now who's ready for some mudding?
4. 2017 Toyota Highlander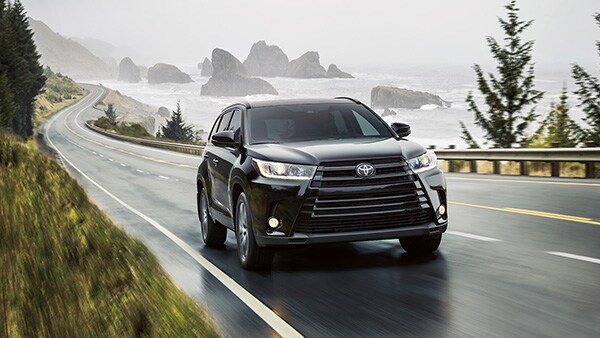 Need a little more room to fit the family comfortably? Forget the minivan and check out the better alternative! The eight-seater Toyota Highlander happens to be one of the most fuel-efficient SUV's on the market to date, so if road trips are your thing, this
might be exactly what you need. They're powered by a 3.5 litre V6 engine and 295 horsepower that can be paired with both FWD or AWD.
The rather solid and spacious design of the interior means more for room for the travelers. Seats can be stowed away leaving more room for extra cargo space -- 83 cubic feet of space to be exact when you tuck both rows away! And for the rest of the carry-on items such as smartphones, iPads and snacks, there's plenty more storage space scattered throughout the cabin for those, as well.
Although this vehicle is great for driving unpaved roads throughout the mountains, we don't recommend you take it off-roading. Highlanders ride on a suspension meant to prioritize ride comfort, not for climbing boulders...so leave that to the 4Runner.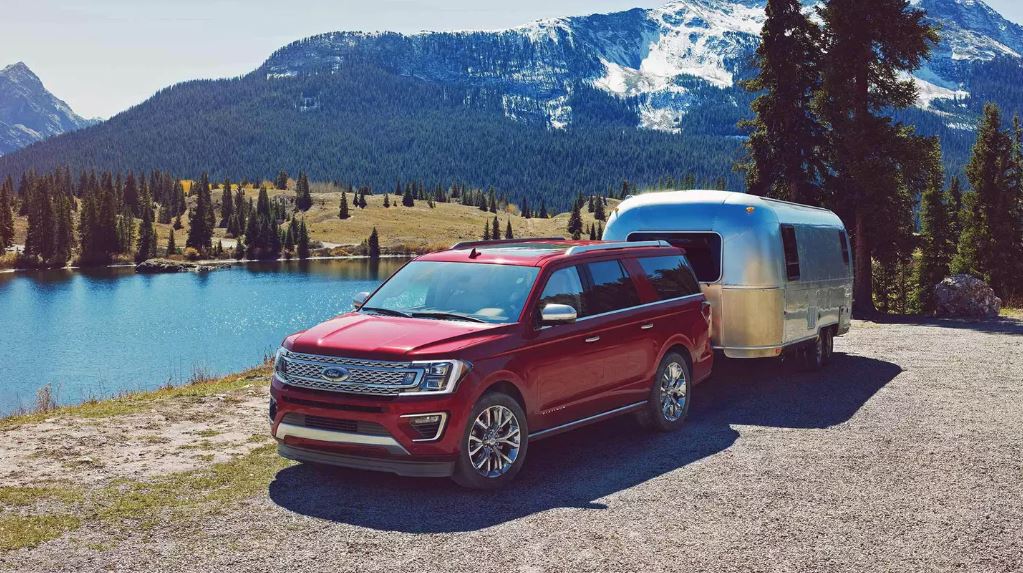 Probably not the best choice here considering how expensive gas is in Alberta and British Columbia right now -- but if money is no option for you then check out the 3.5 liter, twin-turbocharged, V6 2018 Ford Expedition. With 375 horsepower, 470 pound-feet of torque and an impressive towing capacity of 9,300lbs, this beast will have no problem hauling just about any sized trailer.
The sleek and newly designed exterior is still no match for the interior. The spacious eight-seater includes heated ventilated seats, 172 cubic feet of passenger space with third row seating, six USB ports and fifteen -- yes, fifteen -- cup holders and a twelve-speaker B&O sound system. Passengers can sit back and enjoy the luxury of streaming live TV on two separate screens via Sling TV's service, all thanks to the built-in 4G Wi-Fi system.
Other seemingly never-ending features this beauty comes with are: heated and cooled front seats, heated steering wheel, navigation with an 8.0-inch screen, a monstrous panoramic sunroof, lane departure warning with active lane control, ProTrailer Backup Assist, automatic high beams, rain-sensing wipers, forward collision warnings, and so much more. Basically, it has everything you can think of packed in here...
It may be pricey but if you ask us, it's well worth the cost.